Justin Robinson
Passionate leader in the field of Positive Education
Justin Robinson is the inaugural Director of the Institute of Positive Education (IPE), based at Geelong Grammar School. He leads a team dedicated to promoting the theory and practice of Positive Education through research and providing training for other educators. In 2018, the IPE delivered 124 training courses, which were attended by over 6000 participants. Whilst continuing to deliver a range of open-entry courses and workshops, the IPE is increasingly working directly with individual schools to provide whole-school training and in-depth, long-term consultancy to facilitate customized whole-school Positive Education implementation strategies. As a passionate leader in the field of student and staff wellbeing, Justin has been invited to write for a number of publications and speak at conferences both in Australia and around the world. His appointment at the Institute follows a successful career as a Mathematics and Physical Education teacher and school leader at both Geelong Grammar School and Trinity Grammar School. Justin is an Honorary Fellow of the University of Melbourne's Graduate School of Education and was listed in The Educator's Top 50 Hot List in 2017.
EMBEDDING CHARACTER STRENGTHS IN YOUR SCHOOL: Knowing and utilising what is right with you!
How could knowing and utilising your own strengths and the strengths of those around you transform your school and your teaching practice? This keynote presentation will explore the language and framework of the VIA Character Strength classification, and how these can be applied and embedded in a school setting.
Delegates will gain an understanding of ideas on how character can be learned, practiced and cultivated.  Practice wisdom, including mistakes, challenges and successes from ten years of implementing a strengths-based approach at Geelong Grammar School will also be shared with the audience.
Justin Robinson is the Director of the Institute of Positive Education.  In the past five years, this Institute has assisted thousands of educators from around the world to know their character strengths and to harness them for the good of society.  The Institute hopes that schools will embrace a common language of character strengths to help support students to nurture healthy relationships, foster resilience and increase engagement.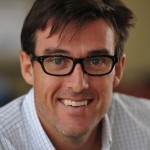 Technology Coach
ADE and currently serves as the ES Technology Coach at Shanghai American School-Puxi Campus.