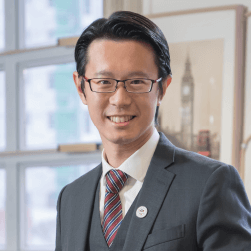 Dion Chen
Principal, Ying Wa College
Mr. Dion Chen received his education in Hong Kong, the United Kingdom and Australia. He obtained a Bachelor's Degree in Accounting & Financial Analysis from the University of Newcastle Upon Tyne, UK, and a Master's Degree from the University of Newcastle, Australia. He has also obtained a Postgraduate Diploma in Education and a Professional Diploma in Management of Extra-Curricular Activities from universities in Hong Kong.
He started his career in education in a special school in 2002. Two years later, he joined YMCA of Hong Kong Christian College as a Business Teacher and was well respected by students. During his 17 years at the school, he took up various leadership responsibilities and was appointed Principal in 2013. He is passionate about nurturing young people and developing their talents, as well as fostering the pursuit of the emotional and academic well-being of the whole person, excellence, community service and responsibility.
Mr. Chen actively serves the community. He is currently Chairman of Hong Kong Direct Subsidy Scheme Schools Council, the Chairman of the Association of School Heads of Islands District, Councillor of the Hong Kong Principals' Institute, the Deputy School Supervisor of SWCS YMCA of Hong Kong Christian School, the Vice-chairman of HKSSF Tsuen Wan & Islands Secondary School Areas Committee, the Deputy Regional Commissioner of New Territories Region, Scout Association of Hong Kong, the Vice President of Lantau Island District, Scout Association of Hong Kong, the Committee Member of Canoe Polo Committee of International Canoe Federation and the Treasurer of E-club of Lantau, Rotary District 3450.
Presentations
No presentation found
ABOUT THE ORGANIZER
21st Century Learning International is run by highly experienced educators and delivers world class conferences and events aligning with our mission of "Building Communities of Learners". 21CLI also provides consultancy services for schools and school groups with a special emphasis on the use of technology for administration, learning and teaching. 21CLHK is one of 6 annual conferences in the 21CLI portfolio.